Every year at this twitterpating time, (according to Bambi and friends), we get a host of bird couples making their newlywed nests in our gutters, atop beams, or as safe-as-it-seems-to-them, any nook or cranny. And without fail, there is usually one couple that for one reason or another, seems to be a half a bubble off plumb in their choices.
There was the kamikaze bluebird who inexplicably would follow Jerry from room to room, flying so hard into each window leaving feathers as he went, that his sweet wife would watch from a nearby branch or window with a somewhat stunned look of "what are you doing?" Or there were the doves who nearly died of heart failure every time we walked onto our side porch because they had built their nest in the heart-shaped grapevine wreath that hung right beside the door. Or there's this year's winner, Mr. and Mrs. Sparrow, who have already tried and failed in four separate attempts in three different locations, to build their home, the first unsuccessful site, my fault.
I had just purchased this sweet, yet simple twig wreath adorned with the softest pink flowers to hang on our new front door. It gave me joy every time I walked up the steps just to look at it. But one day I noticed flowers and twigs had seemed to disappear, the wreath now appearing to bald. Much to my chagrin, I found this sweet husband and wife bird team were not only taking the twigs from my wreath but were also burrowing into it to make their nest.
Knowing that birds when they leave their nests at the end of a season also often leave it infested with mites, made me jump into action. Taking the wreath down and rehanging it on the inside of the door, I thought, "They will find a better place," only to find the very next morning, the papa bird clutching the window frame of the door looking woefully in at what he thought was to be his perfect home.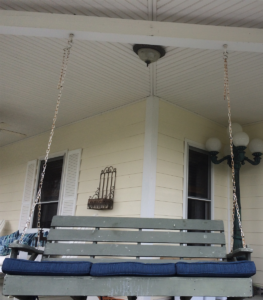 Try number two was atop a beam that our porch swing hangs from. The wind of a thunderstorm blew the nest to smithereens. Number three and four were on the blade of an outdoor ceiling fan. Every time the Mrs. would jump off in flight to go gather new materials, her poor attempts of building a place to raise her young would sadly fall in a gentle flutter to the floor.  
Watching this unfold made me feel that I had never been so selfish in all my life. Now that may seem a bit dramatic, but what was happening to these poor birds was my fault. Why couldn't I have left well enough alone? What's a wreath? What's a few mites?
But there we were, the two birds and me in quite a conundrum.
I've been here before. Not with birds, but with children, family, and friends. In situations and circumstances that come everyday, in every sort of way. And I've been the fixer upper, the problem solver, doing to others what I thought best, often landing them and me in much less than what was in my heart.
So instead of being the one who charges in on a white horse coming to the rescue for my feathered friends, I stopped. And with the smallest whispered prayer asked God what I should do.
Now, that may seem silly, but I've had my most wonderful intentions go awry bringing disappointment and misunderstanding when things didn't work out as I had hoped.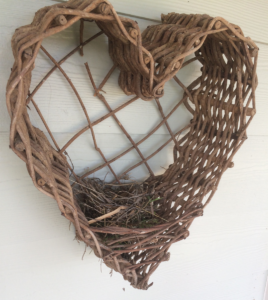 What came into my brain was to dig out from summer storage that heart-shaped basket, hanging it on the wall near the outdoor ceiling fan. Picking up fallen fixings from their failed nest with a pair of kitchen tongs so my human scent wouldn't be there, I carefully laid the beginnings of their possible new home. And so far it has worked! We can sit at our kitchen table and watch the sweet male keeping a watchful eye while his lady builds the nest in preparation for their babies.
God tells us to pray about everything. (See Philippians 4:6.) And since He keeps His eye on the sparrow and one doesn't fall without Him knowing it, (See Matthew 10:29), praying about what was best for these two, seemed what the Lord would want. For when we pray, opening our hands and letting God take what concerns us, from the most precious to what seems minuscule and insignificant, it is the act of putting our faith and trust in Him.
The Lord knows I don't do it perfectly, that most of the time I don't run to Him first when problems arise. But I pray my heart will be more and more inclined to do so. His feathered friends flying by will now be one more sweet reminder.
But also in reading Psalm 91 this morning I ran across these verses where God's people are pictured finding protection in Him.
"…He will cover you with his feathers,
And under his wings you will find refuge;
His faithfulness will be your shield and rampart…"
It just struck me that the picture painted is how His deep love and care for us is what a mama or papa bird do for their young when the storms rage, a beautiful depiction of how He pulls us in buffeting us from the trials and trouble (for they will come) if we will let Him.
Much love,
Kimberly