Recently, Jerry and I made a decision that caused me to come face-to-face with Lot's wife, the woman from the infamous town of Sodom. Not a comfortable thought considering in the Bible, she is nameless. But more importantly, when fleeing the historic destruction of Sodom and Gomorrah she is the person who by looking back, disobeyed God and was changed into a pillar of salt. Not knowing her reasons why, but realizing that some of those same motives which might have caused her disobedience—not wanting to leave family and friends, wanting the security of the past by holding onto what is familiar—all of which are alive and well in me, was enough to give me pause. To stop and listen. To pay attention and trust God in what Jerry and I feel He is leading us to do.
In my former life before relocating to Middle Tennessee, our family moved every four years, because of my late husband's career. From the east to the west coast and even in between, we were blessed to live in many diverse cultures this country has to offer and in just about every architectural style of home imaginable. The adventure of making those moves and meeting new people was exciting, challenging, and fun, but it wasn't until I walked out onto the wrap-around porch of where I now live, that an unexplainable peace took hold deep in my heart making me feel, for the very first time, this is home. Starting my new life here with my husband, Jerry, and experiencing the serenity this place holds is something I have come to cherish and love, so when the door opened to purchase another property and make one more move, it was a possibility I did not want to consider, one I did not even want to contemplate.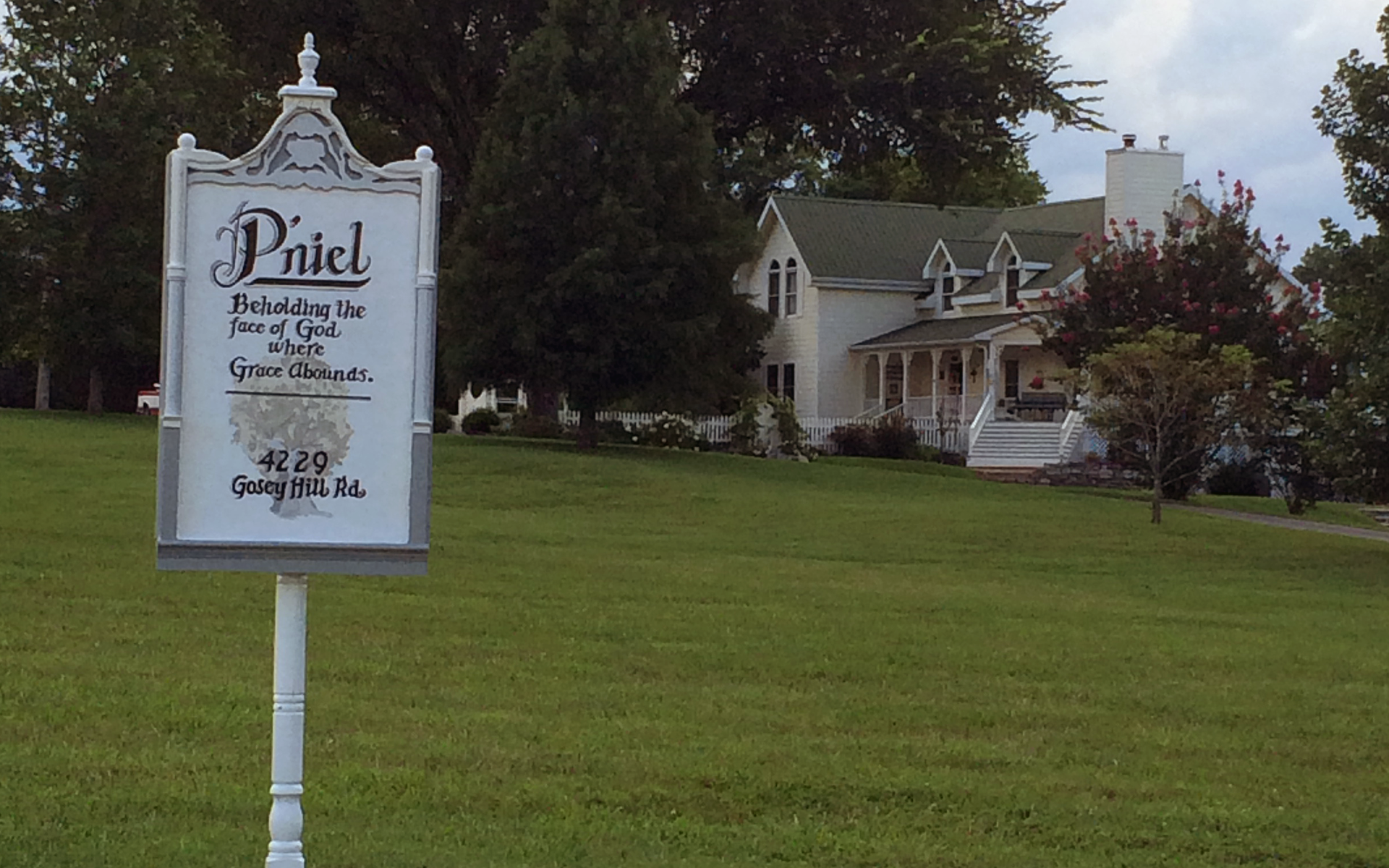 In fact, resolutely and unequivocally, not. But after digging my feet in more than once and mentally screaming a resounding "NO!" several times through the process and along the way, I came to understand that Jerry and I are stewards of this beautiful piece of property we call home. The truth is, it never really belonged to us, but to God. Just like He owns the cattle on a thousand hills (Psalm 50:10), He owns this place too.
So when He began to stir our hearts to move in the direction of His calling, He did it in the tenderness of His love. For He knows our frame. Particularly mine. Weak. Faint-hearted. Unable to look ahead, past today. Holding my fist tightly closed, not wanting to let go of the blessing He has given. Maybe you've been there, too. But in His mercy—especially to me—He has put on Jerry's and my hearts that we are to share this place, not sell it. Naming it, P'Niel, Beholding the Face of God where Grace Abounds, we feel we are to move down the road to our new abode, while opening this house to missionaries, to regroup, refresh, and rebound; to churches, as a retreat for ministers and staff; and as an event venue for birthdays, weddings, receptions—whatever the Lord brings our way.
Am I afraid of the unknowns and the what-ifs we will encounter? Absolutely! Jerry and I could say no, holding firm to financial security and what we felt was ours, but when I read this passage in Luke 17: 32-33, I knew we—more me than Jerry, because he and his faith had already released it—had to let go.
"Remember Lot's wife. Whoever seeks to preserve his life will lose it, but whoever loses his life will keep it." (ESV)
But I know God is faithful. To be out of His will is, in the least, as Lot's wife would attest, frightening beyond belief, but the adventure of doing what He wants is great. Bumps and turns, twists and wild turbulence will happen, but to walk, knowing that the Presence of the Lord is with us is, that He is using this to strengthen our faith while drawing us to Him, is the most lovely outcome of all.
Please join us in our adventure, praying for us, sending suggestions and encouragement. We welcome all, gratefully.
Kimberly